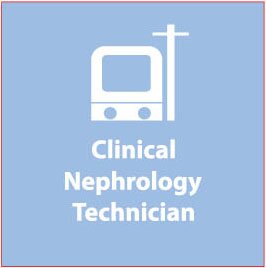 Certification
CCNT Clinical Nephrology Technician
offered since 1999
Application Procedure
Download the Handbook, which contains the Application, click here
Eligibility
A minimum of a high school diploma
Completion of a one year nephrology technology training program with clinical experience,
OR
completion of a combination nephrology technology training program of less than 1 year and work experience equivalent to 1 year
Completion and filing of an application
NOTE
Clinical Nephrology Technician Candidates in Ohio  A minimum of 12 months experience in dialysis care is required in order to take the exam. Dialysis care is defined as: performing and monitoring dialysis procedures including initiating, monitoring and discontinuing dialysis; drawing blood; administering medications when administration is essential to the dialysis process; and responding to complications that arise during dialysis.
Fees
Certification: $255.00
Online Practice Test: $60.00
Certification Certificate (first e-Certificate is free)
Duplicate Score Report: $25.00, click here
Scheduling Your Exam
Go to the testing service, click here, select "Locate" in the left column, and use:
Test Sponsor: Professional Testing Corporation
Program Name: National Nephrology Certification Organization
For additional information check the testing service's FAQs, click here
Preparing for the Exam
Core Curriculum click here
NANT Study Materials click here
Online Practice Test click here
Report of Results
See page 12 of the Handbook
NOTE
Please consult the NNCO examination handbooks for all additional certification and examination information, such as the purpose of certification, special needs requests, and the rules for examination.